VIRGINIA & TRUCKEE RAILROAD HISTORICAL SOCIETY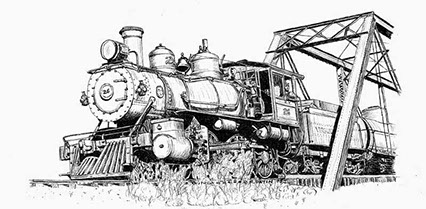 Drawing by Richard C. Datin from the Stephen Drew Collection.
Established in 2009, the Virginia and Truckee Railroad Historical Society is dedicated to the promotion of research and presentation of the history of the Virginia and Truckee Railroad, 1869 -1905, the Virginia and Truckee Railway 1905-1950, and the affiliates, the connecting rail lines and the Comstock area in general, as well as aiding in the preservation of artifacts of this period including Virginia & Truckee locomotives, rolling stock, equipment, buildings, and documentary materials. Join now!
We've added a new section for modelers on the website that contains drawings, kits, and descriptions of our members' projects, like Bob Oakes' Ophir Mine, Consolidated Virginia Mine and & V&T Freight House Layout and Tom Ahlhelm's work-in-progress of a scratch- built V&T Locomotive #21, J. W. Bowker.
Take a look and submit your projects to inspire other members.
REGISTER NOW
2014
Fifth Annual
V&T Railroad History
Conference
Friday, October 10 &
Saturday, October 11
Field Trip Sunday October 12
To be held at the
Gold Dust West Casino-Hotel
On Route 50, Carson City
Donate to Future Research Projects
Nevada's Virginia & Truckee by Stephen E. Drew is the latest volume in the Arcadia Publishing Images of the Rail series. Published March 31, 2014, it is already in its second printing.
Stephen will be selling and signing copies at the 2014 V&TRRHS Conference in Carson City, October 10-12.
You may order your copy from the California State Railroad Museum, (916) 324-2950 or the Nevada State Railroad Museum (775) 687-6953 ext. 231, as well as from your favorite book dealer.